Fuerteventura: PWA Vice World Champion 2017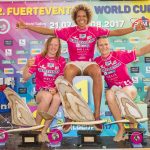 With the whole winter being out of the water because of my injury, it knew that my goals from last year's comments on my Fuerteventura 2016 blog (to learn a few new moves or get some power moves that I can already do more consistent, like the culo, ponch, shove-it spock, burner and toad) were not in my reach. After finishing my High-school exams in May I was lucky that we had good conditions in Holland and I could do 2 training sessions per day. Every day I got more closer to my old form and managed to even learn a few new tricks. But sailing in the stormy conditions of Fuerteventura is a big difference to the conditions in Holland, so I left with no too many expectations about my performance.
In the 5 competition days on the windy island of Fuerteventura we've completed 2 double eliminations for the girls. During all days of the event the wind was firing, everybody was overpowered on their smallest kit. I've used my 3,6 and 4,0 Severne Freek's together with my Starboard Flare 93.
A heat is 8 min long and you're allowed to do 6 moves per tack, of which only 3 count. This means that crashing a move doesn't matter that much. The first day the ladies had only 1 heat in the first single elimination, which I managed to win. The second day I first had to sail a semi-final. Although I didn't sail good enough to win the heat, I was pretty happy with my performance and I was ready for the battle for 3rd or 4th place against Arrianne. I started the heat a bit nervous and crashed a few times, but luckily I was able to get my focus back in time and managed to win that heat. Stoked to make it on the podium in this 1st elimination.
The next day we completed the double elimination. I succesfully defeated my 3rd place and went into the battle for 2nd against Oda with more confidence. I sailed my best heat so far on the PWA tour, so I won that heat and got myself a place in the final. I was happy to be sailing again in the final against Sarah and I managed to land a Flaka, Forward Loop, Shaka and Shovit on Port tack and a Spock, Shovit Spock and A Kono on Starboard tack. Super stoked with both my sailing and my 2nd place in the first elimination.
On day 4 we started a new single elimination, in which I made it again to the 2nd place. Everyday my sailing is feeling better, the moves are performed more stylish and I even managed to land my first culo in a heat.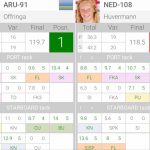 The last day of the competion I managed to succesfully defend my 2nd place against Oda. I was  happy to make in it the final again and ready to give all my best. With 4 moves counting on 7 attempst each tack, I knew I had to go big. And that is what I did! With 10 seconds on the clock I had a Forward loop, Airflaka, Shaka, Switch Kono, Shovit on Port tack, and a Kono, Spock, Culo, Shovit Spock and a Forward loop on Starboard tack on my score sheet, and only 5 points behind on Sarah. In those last seconds of the heat I landed a Puneta on Port tack, which is a higher scoring move. Would it be enough to win this heat and to see a superfinal? Back on the beach we had to wait a long time for the points given to my puneta and the jury checking the points on the score sheets for the whole heat. At the end it was still Sarah who came out as the winner of this final and this event, but losing with only 1,2 points made me proud of my performance this week and walk away from the beach with a big smile.
Now it's time to go back home; working at Zeil- en surfcentrum Brouwersdam and training for/competing at the EPFT Brouwersdam.
---