PWA slalom Alacati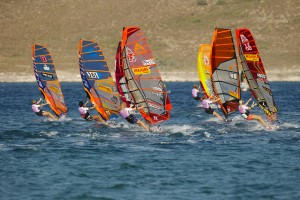 After my 3rd place during the PWA Freestyle in Fuerteventura I wasn't quite sure what to do with the last 3 weeks of my summer holiday. I couldn't quite find a place suitable for freestyle in which in it would be windy, could stay alone and wouldn't need a car. As I heard some of the freestyle girls were going to Alacati to compete in the PWA Slalom, I though why not give it a try as well. It turned out to be an awesome experience, I'm super happy that I went to Alacati, had lots of fun and definitely a finishing touch to an already awesome summer!
When I went to Alacati was traveling with just 1 slalom board and my freestyle gear. I had never used a camber sail before and as there was no wind before the competition, I knew that when the wind would kick in, I had about forty minutes to train and get used to the equipment. After some days playing the waiting game, the wind finally kicked in. During those forty minutes I improved every single minute. At some point I even got so much confidence I was in it to win it… Probably I was to exited and wanted to push it too much, because I had an over-early in the first heat. Well at least I learned a lot from it and I definitely know what I should train for the upcoming winter. As for the rest of the starts I didn't want to be over-early again so I took it a little bit more easy. In the second elimination I was in the hardest heat possible, so I knew the chance of qualifying for the next round was really small. I was the last to cross the start line but by the time I arrived at the first mark I was in fifth position. I was fifth all the way from off that point of the race, I came very close to 4th but just couldn't get it. In both the third and fourth elimination I qualified into the semifinals and subsequently into the losers final! Which I'm really happy about. 🙂
I'm very happy with the eighteenth place overall for the event, especially as there were so many girls competing. I learned a lot, met a lot of new people and I'm really motivated to do some serious slalom training this winter! Thanks a lot to Active Surf Center Alacati and Severne Sails for helping me out with the gear in such a short period of time! Also a big thanks to my other sponsors for the support: Starboard, Prolimit, Maui Ultra Fins, Zeil- en Surfcentrum Brouwersdam, Urban beach and Continentseven.
---