ONK Wave 2016: Dutch women's Wave champion
I'm glad that the first possible weekend provided good conditions for the ONK Wave in Zandvoort.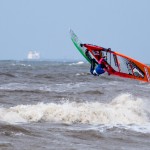 It was a cold day, but we had a nice competition. I ended this first stop of the ONK Wave on the 1st place.
All of the next weekends in the waiting period did not provide good competion conditions for the Dutch Nationals Wave, but that makes me the 2016 Dutch women's wave champion!  Pretty stoked about that!
---