PWA Fuerteventura 2014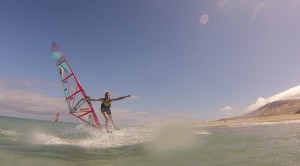 Summer holidays started and I was straight of to Fuerte! Full of energy and motivation I was ready to start the 2nd PWA World cup of the year!
It was great to see everybody again and see everybody rip the waters of Fuerteventura!
The conditions have been really weird in the first week… I had 3 days of no wind, I used my 3.6 just once and my most used sail was 4.4. I had some nice earlybird sessions in the lagoon together with Heleen at the beginning of the week to warm up and get the feeling back of all the moves, since I didn't sail in Holland after the world cup on Bonaire…After a few days I was only sailing in center 1 to get used to the chopy and gusty conditions there. Starting to land new moves like shove-it's, airflaka's and switch moves to the outside, I felt I was getting a lot more comfortable in the chop…
A few days before the PWA Freestyle started I crashed badly on an Airflaka…. I landed wrongly and hurt my both feet. I took some rest 3 days before the event, but my feet didn't seem to improve so I went together with Arrianne, who crashed really hard on a ponch (she wasn't able to walk and had to skip the competition), to a local doctor to get things checked. At the end it wasn't something really bad and I could stil sail without making it worse, it only hurted quiet a lot with sailing.
In the single I was a bit unlucky since they make up the single based on the ranking of last year. As rankings have been changed a lot since last year. I was really unlucky to be up against Oda straight away. The conditions were going all over the place and it was hard to choose what sail to rig. I rigged my 3.6 and 4.0 at the end. Just one heat before my heat the wind dropped and I wasn't planing on 4.0 anymore. Lucky enough I could borrow Dieter's 4.4. As I didn't sail for 3 days, still feeling my feet a lot and not having my own sail. I wasn't able to sail a really good heat.
The double went a lot better, my feet were feeling better, the conditions were better and I had a good warm up session. I managed to sail some solid heats in which I landed 4 moves on both tacks. At the end Yoli was sailing really good and I didn't in the heat against her so she won. This gave me a 6th place in the PWA Fuerteventura.
There wasn't enough wind and so no time to do another single and double elimination for the girls. This made Olya and me on a shared overall 3rd place. Lucky enough there was enough wind later to do a sail-off. The wind wasn't perfect and it wasn't as choppy as the days before. I managed to land 2 good and 1 half move to the outside and 4 good moves going in. As Olya didn't seem to have a lot of power or a too small sail and crashed lots of her moves I won the sail-off heat, which gave me an overall 3rd place in the PWA Woman Freestyle 2014!!!!
I have learned a lot this trip and I am super stoked with my 3rd overall place! I still can't believe it! Congratz to Sarah-Quita for her 7th world title and Oda Johanna for her 2nd place!
Thanks everybody who helped me going to the doctor, helping me out caddying, borrowed me some equipment or anything whatsoever!Thank youuuu!!!!
---