Blog
PW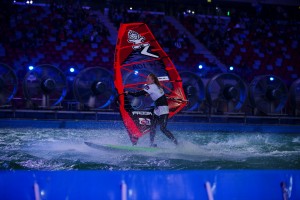 A Warsaw Indoor World Cup!
Summer holiday is over and I went back to school, well at least for one day. One day at school and straight to something really exiting, rare, awesome and sick: the PWA Warsaw Indoor World Cup Poland 2014!
Indoor windsurfing, is that possible? – Yes, it is! It basically means we are sailing in a pool! The last time, there was an indoor, has been 8 years ago, in Gent, Belgium. This year it's in the national stadium of Poland, right in the middle of Warsaw! The event took 4 days of which 3 with windsurfing action! In 3 days there where at least 35.000 visitors! The stadium had the biggest pool ever being 90 m long, 33 meters wide and 34 fans giving us wind.
The 4th of September and the first day of the competition was just a day of traveling, registration, getting the gear ready and meeting some new people. It's really nice to meet so many people, you actually know by name, but not personal. Normally its just one or two disciplines at the same time, now everybody is here: slalom, jump and freestyle, man and woman! 🙂
There were a lot people that had to train, so the first training sessions were at 8 in the morning. Luckily the freestyle wasn't up first and I had some time to sleep. I came to the stadium around 10. The fans needed more rest than expected, so the training sessions took a lot of more time, than first planned… So at the end the PWA was forced to skip the women's freestyle training as we didn't compete on Saturday evening and all the other disciplines did. I was a bit up disappointed because I was so much wanting to sail in the pool! It was amazing to see there were so many people working to get this event really nice. There were lots of huge cameras, lots of people and not to forget there was some great action by everyone! I enjoyed the show a lot!
As there wasn't much time to train in the pool Saturday, we were starting again at 8 in the morning. I was really exited, not only because its awesome to sail in a pool in a huge football stadium, but also because the guys didn't do super difficult moves and some where even crashing things like spocks, so I was a bit scared to not be able to land any move what-so-ever. I had my first run, didn't crash in the start! Yes! The jump training was still going on so I couldn't do a move yet. But I was getting the feeling, and by the time the jumping girls where done, I landed spocks, grubby and puneta's! Yesyesyes, I was ready! After a day of waiting it was time to get ready for competition! I never felt this nervous getting on my wetsuit, I got the gear ready and the show could start! First the introduction of the riders, this was awesome again! Huge camera's were filming us, people were cheering and I was having great fun! Freestyle was up first so I kind of run to my gear, got it to the starting line and here we went. My first run wasn't so good, I was so nervous and I didn't have enough speed, so let's forget about this one. On the way back I again didn't have enough speed to do a puneta, so I tried a eslider instead, halfway I was looking back when sliding and I saw I was a bit too close to the edge of the pool and I had to crash to make sure not to fall out…. At least I didn't end up falling out, only half of my sail did while throwing down a fence with a PWA flag on it. I made the crowd's laugh a bit so it's alright. I lost lot's of my nerves on my second run, I was able to land a perfect spock! On the way back I did a switch Vulcan, not completely what I wanted it to be, but anyway better than nothing! With these moves I became 3rd in the women freestyle competition. This day was one big roller coaster, in which happened so much! The feeling to do your moves in front of so many people is unbelievable and there are no words for it!
Sunday was just a day of fun and relaxing for me basically. There were a lot of watersports going on in the stadium like sailing, waterpolo, wakeboarding and the Dunkerbeck Speed Challenge, but I didn't compete as I only had my freestyle kit anyway.
I have never seen a event organised this well, I really felt like a professional athlete going to the Olympics! I will never forget this event!
Thanks to all organisers, sponsors, family and friends for everything!
A dream came true!
Maaike